Hacking the Linksys WVC54GCA webcam
Intro
I have a few webcams (Linksys WVC54GCA) looking out of my house: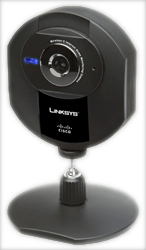 Image quality
Sample images: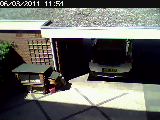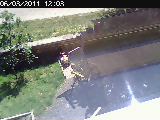 Click on these sample images for a larger (full res) view. These camera's work moderately well, and I am quite content despite the whashed out whites, blurry edges. It is clearly a budget camera and especially during darkness the images can become quite useless for any purpose.
Hacking
Using the tips on
this website
you can see how the internal telnet daemon can be enabled on these camera's:
http://ip-of-webcam/adm/file.cgi?todo=inject_telnetd
This still works even with the latest firmware (v1.1.01 build 01) as of June 2011. The other vulnerabilities described on that website have been fixed by Cisco / Linksys with the newer firmware. All we need now is for someone to crack the crypted root password of the device:
9szj4G6pgOGeA
Apparently, this one is still not cracked (but drop me a note if this changes).
Maybe I should step up the nerd ladder and enter the domain of custom firmware ... for example see this link: hacking-sitecom-wl-404-wireless-webcam.